Ben Fikkert's Hidden Talent
Tatting or Frivolité? What's that? Something you can eat? So it seems. Frivolité is French for a snack. Not just an ordinary snack, no, a classy snack! But the word Frivolité has more meanings. It means Tatting. It is a craft, It is a lace manufacturing technique. The result looks a bit like bobbin lace. But, tatting is knotted lace, whereas bobbin lace is platted and woven lace. For tatted lace, normally you need one or two threads, for bobbin lace you may need hundreds of threads! For tatting you need one or two tatting shuttles (see picture), depending on the pattern.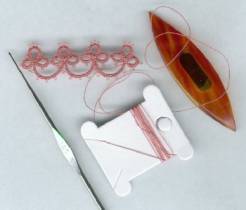 What on earth makes you do a thing like this? When I was eight years old, my mother taught me how to knit. At the age of twenty five, I also got interested in crochet. From crochet to lace is a small step. Before I knew it I was reading all there was to know about lace making. I taught myself bobbin lace and lace knitting.When my mother saw I was interested in lace, she showed me a lace technique that she had practiced when she was pregnant with me. There were complications with the pregnancy and she had to lie flat for weeks. A friend of hers then taught her to tat, because that was about the only thing she could do in the position she was in. Anyway, my mother showed me the knot and off I went!
Shortly after that, I served in the Dutch army - where I just continued knitting and tatting. My fellow soldiers were very helpful in winding balls from the strands of wool I brought. By that time, I got in touch with a publisher. The result was an article in a craft magazine. After that - I was unemployed - I wrote a (Dutch) book on tatting, around 1984. Ten years after that, another one, in English, and at this moment, I'm working on my third book. This book will be published in the United States.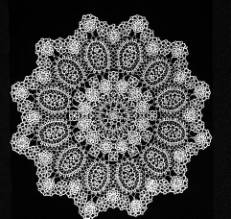 Tatting as a craft goes back approximately two hundred years. In the Netherlands, there are rather few people who tat - it seems an almost lost art. Not so in the U.S., where this technique has grown very popular the last couple of years. The fact that this craft - unlike knitting and crochet - is developing a lot of new techniques these days, shows this. Also, the last five years saw the publication of ten times as many books on tatting than in the fifty years before that!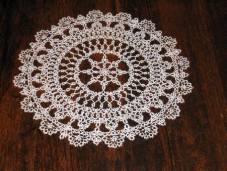 Tatting in fact is one of the so-called fancy needlecrafts, just like bobbin lace and needle lace. That's not something for real men, you might say. The opposite is true. There are a lot of men who practice this craft. Have a look at http://www.tat-man.net, Marc Myers's site, or at http://www.geocities.com/gr8shuttles, the site of the so-called Shuttle Brothers - look at their picture, aren't those guys really tough guys? Also, there is at least one other Dutch guy that tats: Jan Voskes (web site: http://home.wanadoo.nl/tatslife). Finally, you might also want to surf to my own home page: http://home.tiscali.nl/ben.fikkert). You'll find more examples of tatting there. Now, if this story has made your fingers itchy and you want to try tatting yourself, please let me know. I'm more than happy to teach you...!